2010 lakkerne!
Et helt års negleflash på et billede samlet.. Det er alligevel blevet til del mere end hvad jeg lige havde regnet med. Og i forhold til at jeg ikke kan li gul specielt meget må jeg da sige der er et par stykker :P Men ellers er det vist mest pink/lilla der dominere i farverne, dog er blå også pænt repræsenteret. Min yndlingsmanicure i år er helt klart det største af billederne. Den sorte essie med NfuOh's holografiske prikker på! :) Andre nævneværdige er Chanels Steel, Particulière og ikke mindst Nouvelle Vague.
Jeg har haft 140 lakke flashet på bloggen, plus minus et par stykker, det vil sige at jeg har kunne gå med hver farve i cirka 2,73 dage før jeg skulle skifte til en anden. Heraf har de cirka 37 af dem været nogen jeg har fået tilsendt mod en omtale på bloggen og 7 af dem har været fra swaps. Lidt hurtig matematik bringer mit neglelaks-budget for sidste år op på cirka 4800 kr, hvis man regner med at lakkene har kostet min. 50 kr per styk. Hertil kommer nok en 500 kr. cirka på neglelakfjerner og vat.
Mit bedste køb i år må helt sikker være de 3 DS lakke fra OPI og ikke mindst Scrangie som jeg lige har fået for nylig. Og nu er der jo stadig nogen nyindkøbte som jeg ikke har haft vist endnu og en del af dem er også fra sidste år som ikke er blevet vist før. Så det er lidt blandet landhandel.
Den billigste lak har kostet mig 2 kr. og den dyreste har kostet 257 kr. Så må i jo selv gætte hvilke der har kostet hvad :P
Og jeg må sige at min samling er vokset betydeligt siden et af mine første indlæg på bloggen i marts 2009 haha :) Dog har jeg ikke lige styr på hvor mange jeg har sådan totalt, har ikke lige turde tælle dem :P Men jeg gætter på der er over 300 … puha det er mange jo!
Håber i har nydt at læse med, jeg nyder i hvert fald at skrive og vise alt det jeg kan. Og tusind tak til alle jer gamle og ikke mindst nye læsere, det gør det bare lidt mere sjovere at i er her ;) Og jeg glæder mig bestemt til at blogge videre i 2011 :)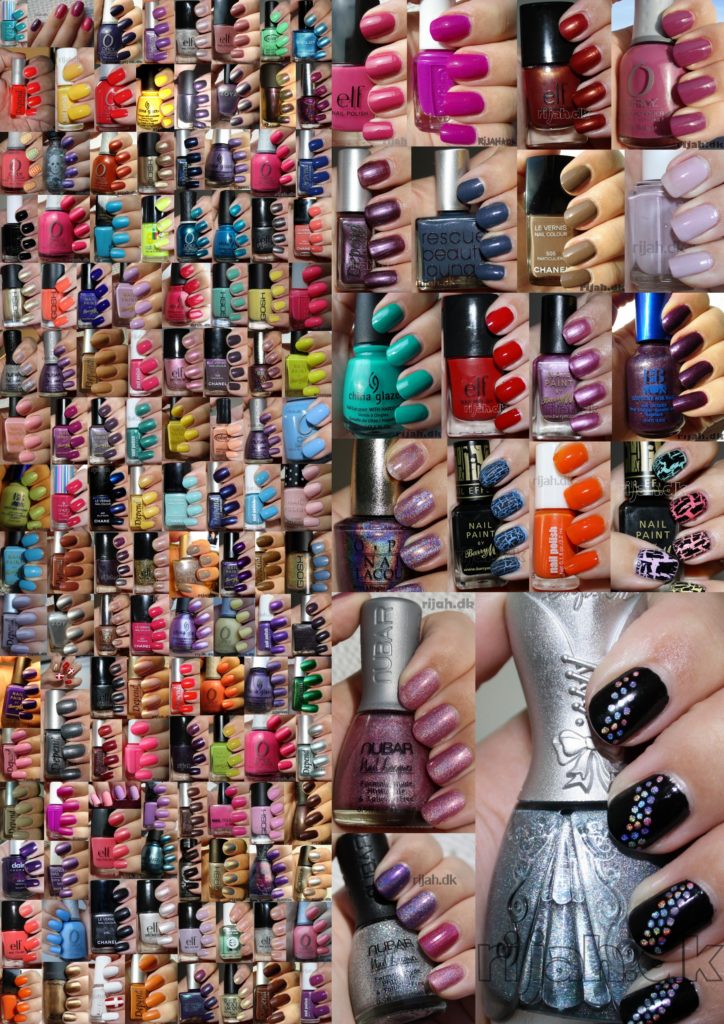 All the nail polishes I have shown during the year! Including a few skittles and such. My favorite mani this year has to be the one in the big picture. The black essie with NfuOh's holographic dots on top. Other favorites has to be Chanels Steel, Particulière and Nouvelle Vague.
I have shown about 140 polishes , which mean I could wear each color for around 2,73 days before I had to change it. 37 of these have been polishes I have been sent for a review and 7 have been swaps. Some quick calculating will show that my nail polish budget for 2010 have been roughly 850,$ if each polish is around 8$. And then an extra 90$ on nail polish remover and cotton pads and such.
My best buy this year has to be the 3 DS colors from OPI and my recently purchased Srangie. The cheapest polish costed me 35 cent and the most expensive has been 45$. Not going into details which ones that was that expensive… I am sure you can guess it :P
My collection have really grown since one of my first posts back in march 2009 haha :) I actually have no idea how many I exactly have now.. but I am pretty sure its more than 300 :o So hopefully I will add a few more during 2011, but I am gonna try not spending so much, would love to save some more money to go on a vacation in stead… :P
Hope you enjoyed my posts here, I certainly enjoy writing and showing all what I can :D Thanks to old and new readers, you make it so much more fun to do this! ;) I am looking forward to be blogging in 2011 as well :)
Related
Tags:
Barry M
,
BB Couture
,
Chanel
,
China Glaze
,
color club
,
cool
,
depend
,
elf
,
Essie
,
GOSH
,
HogM
,
hot topic
,
inglot
,
Mac
,
nailpolish
,
neglelak
,
Nfu-Oh
,
NfuOh
,
Nubar
,
OPI
,
ORLY
,
Rescue Beauty Lounge
,
Zoya
---
13 Comments
---
Trackbacks
Leave a Reply