Maybelline Color Show serien er også kommet med deres bud på tekstur lakker, nemlig kollektionen Crystallize. Man må sige de minder en del om et par lakker der er set før, i hvert fald de tre første. Men de tre sidste er duochrome lakker og absolut noget helt for sig selv. Lakkenerne er ude i butikkerne nu og koster 29,95 kr. for 7 ml.
Rose Chic
Jeg kan ikke lade være med at tænke GOSH Frosted Rose da jeg så den her, de er også meget lig hinanden, men den her er bare lidt mindre orange i farven. Umiddelbart så virker det også til at der er lidt mere sølv glitter i. Men fin farve :)
Light Up
Igen ledes tankerne hen på en GOSH lak, nemlig Frosted Silver, dog virker den her som om der er lidt flere sølv glitter stykker i. Kan godt lide den spiller lidt mere i lyset end GOSH varianten gør. Der er to lag på alle neglene her.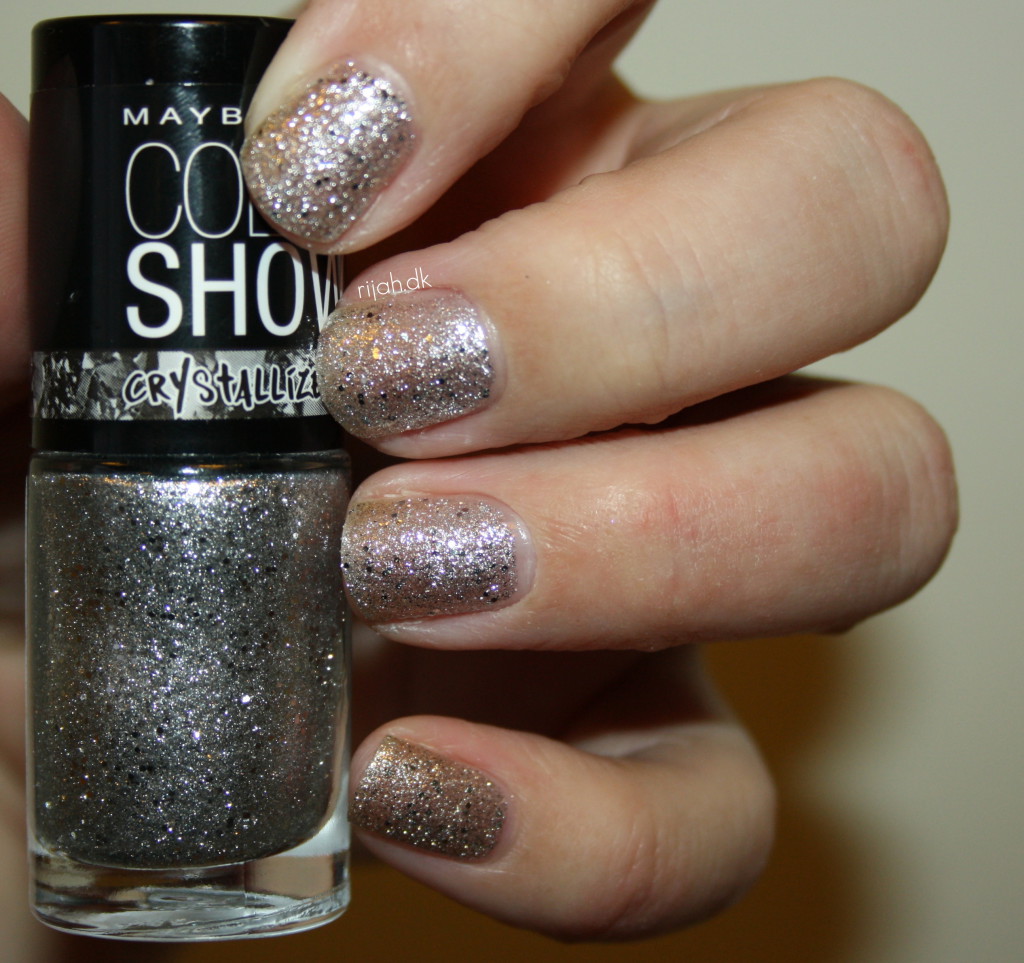 Silver Touch
Jeg kunne også ledes til at tro den ville minde meget om GOSH Frosted Purple, men jeg synes slet ikke den er ligeså lilla som den her. Denne er meget mere farvemættet. Virkelig flot farve og her er sølv glitteret knap så dominerende :)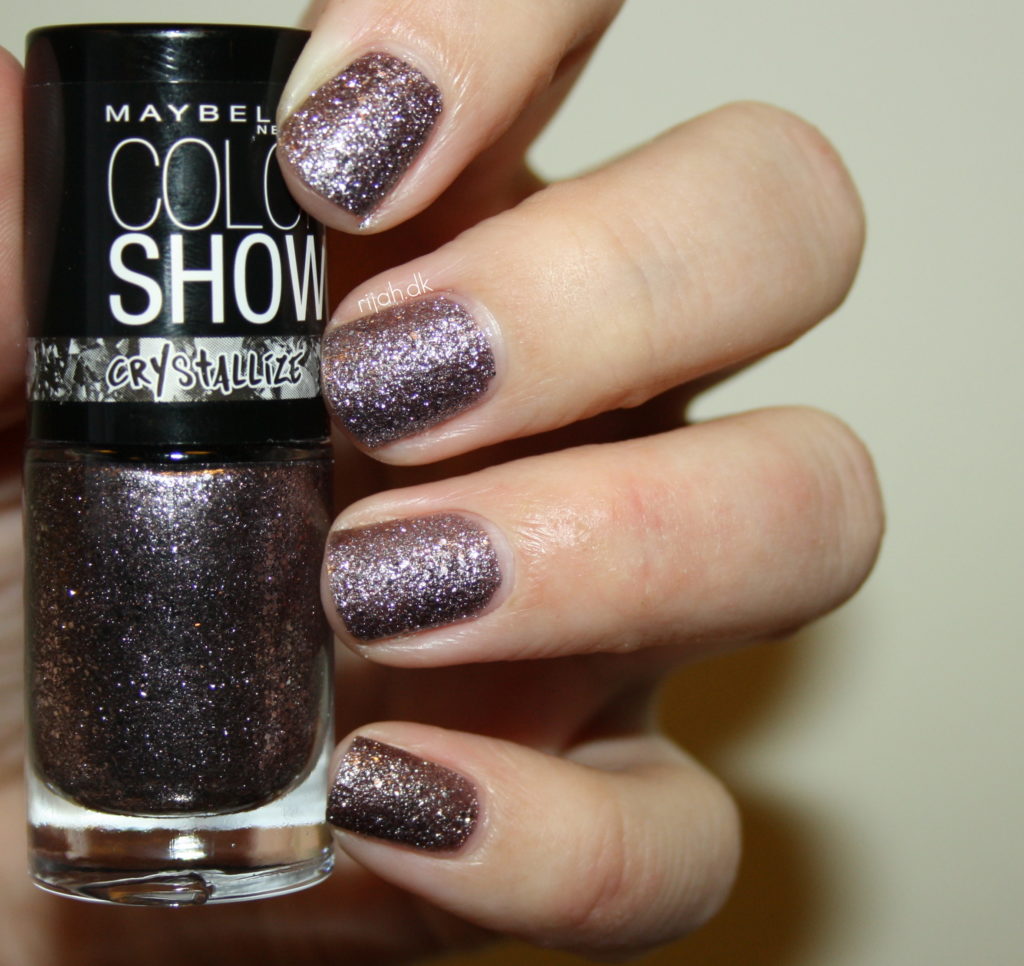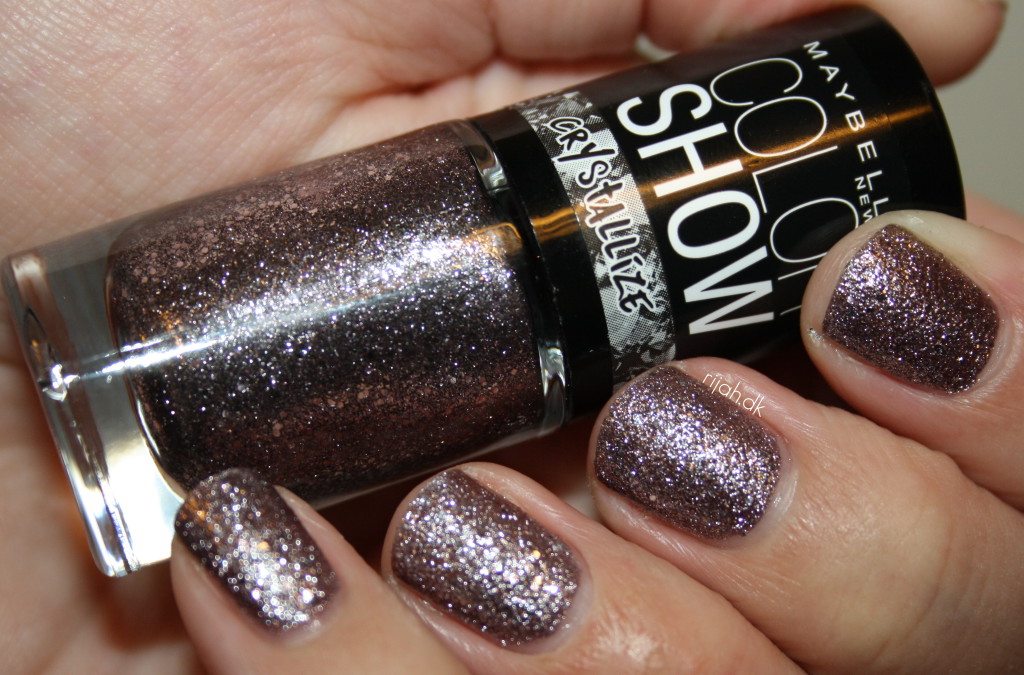 Så kommer vi til dem der virkelig skiller sig ud. Ikke mindst fordi det er jo faktisk en forårskollektion, hvilken man ikke lige skulle tro ved at kigge på farverne her. De er ret så mørke og derfor vil man nok mere ledes til at tro de var efterårslakker. De er oveni hatten også duochrome lakker.. hvilket er noget jeg har det rimelig ambivalent med :( De er virkelig svære at fange på kamera, det er også derfor jeg måtte lægge det her billede ind, for ellers ville i nok slet ikke kunne fornemme det på mine andre billeder.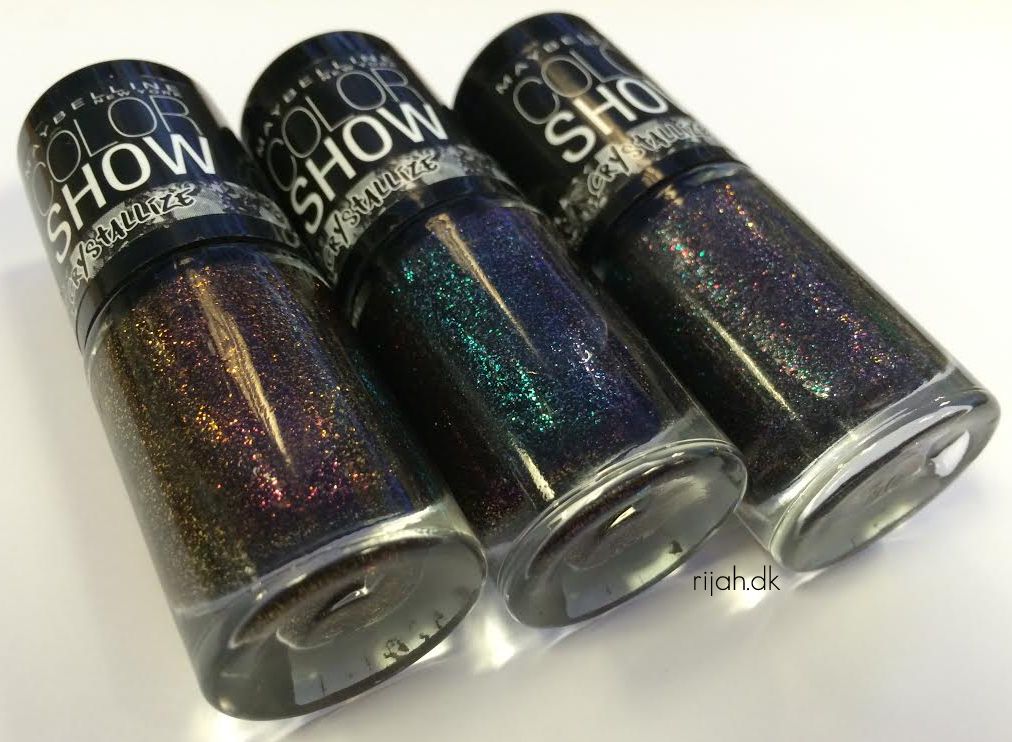 Red Excess
Farven skifter mellem gullig/orange/rød ja og så sort/mørkt selvfølgelig. Grunden til jeg har det lidt svært med duochrome lakker er at enten er de så mørke at det er svært at se effekten eller også har de farver som er ovre i noget brunligt. To ting jeg ikke er så fan af når vi er ude i lakker, helst ikke for mørkt og heller ikke brunt. Med det sagt så gælder det også for dem her, de er meget mørke og derfor er det ikke nemt at se effekten. Ergo så kan man kun se en af farverne på billederne. Hvilket er drøn ærgerligt, for de er faktisk ret pæne.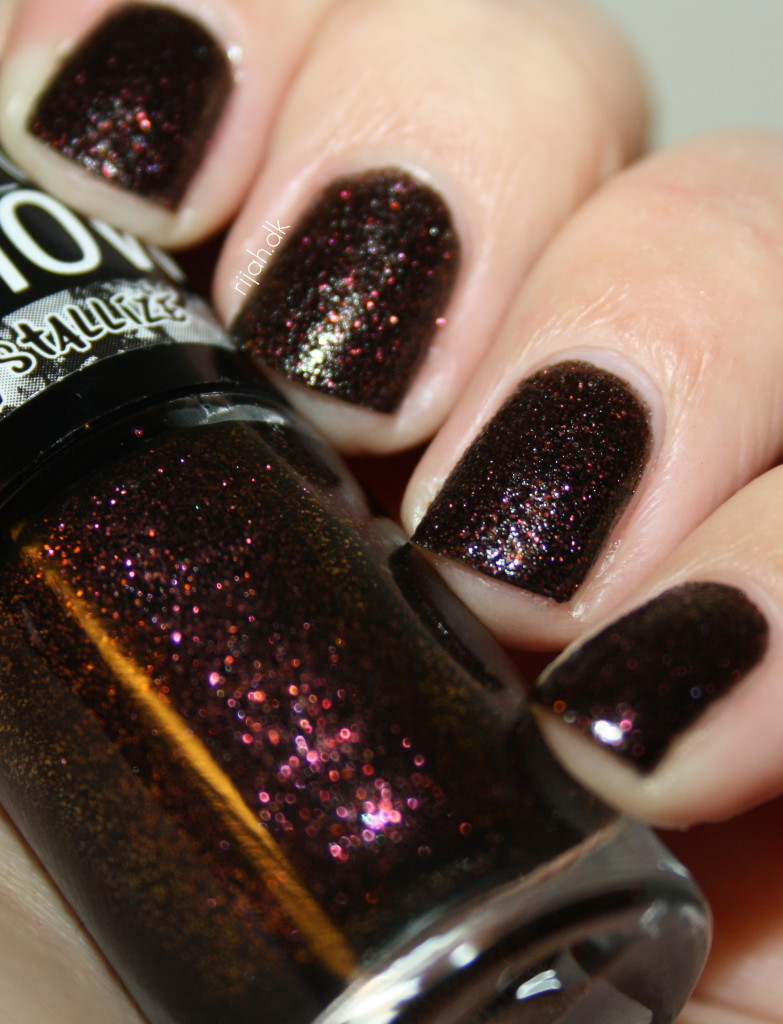 Green Depth
Den her er ude i noget grøn/blå skær og er faktisk helt fin og effekten er meget pænere irl end på billedet her. Tænk på de små sorte billers skjold/ryg og så er det sådan her de ser ud når man laver det om til en lak farve :D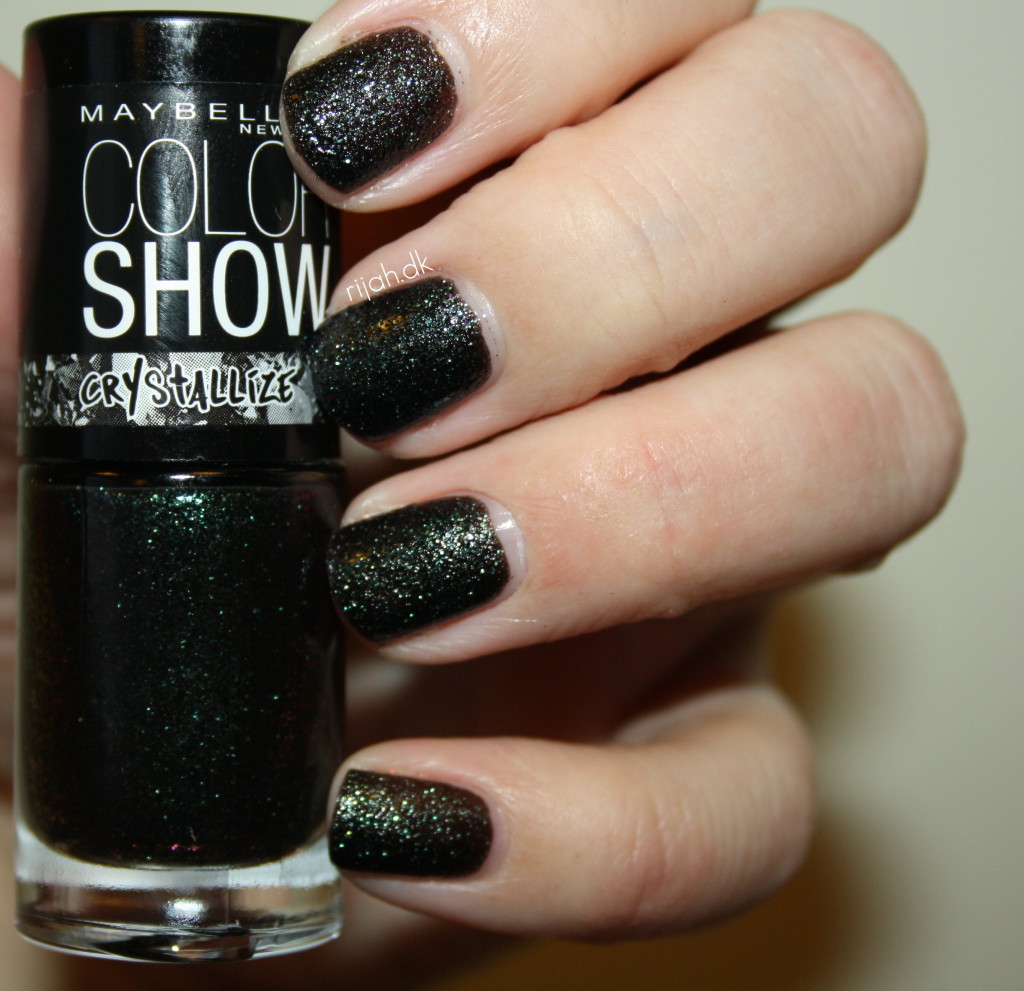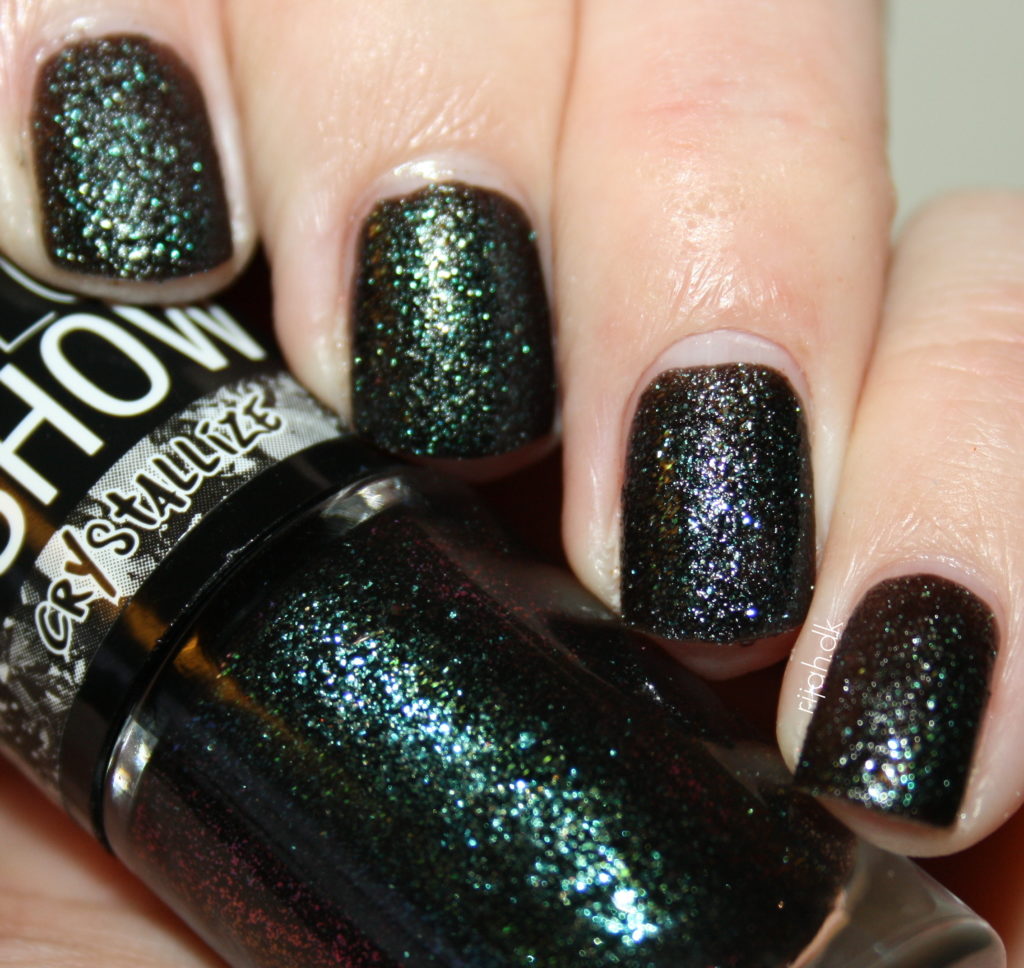 Nearly Black
Meget passende navn til en lak der næsten er helt sort. Dog er der i den her mere end 2 farver. Jeg kan se både grøn, blå og rød i. Så det er en treo-chrome? :P Ej spøg til side, så er det jo en multichrome ;) Synes den har en lidt julet vibe over sig. Men ellers en fin lak :)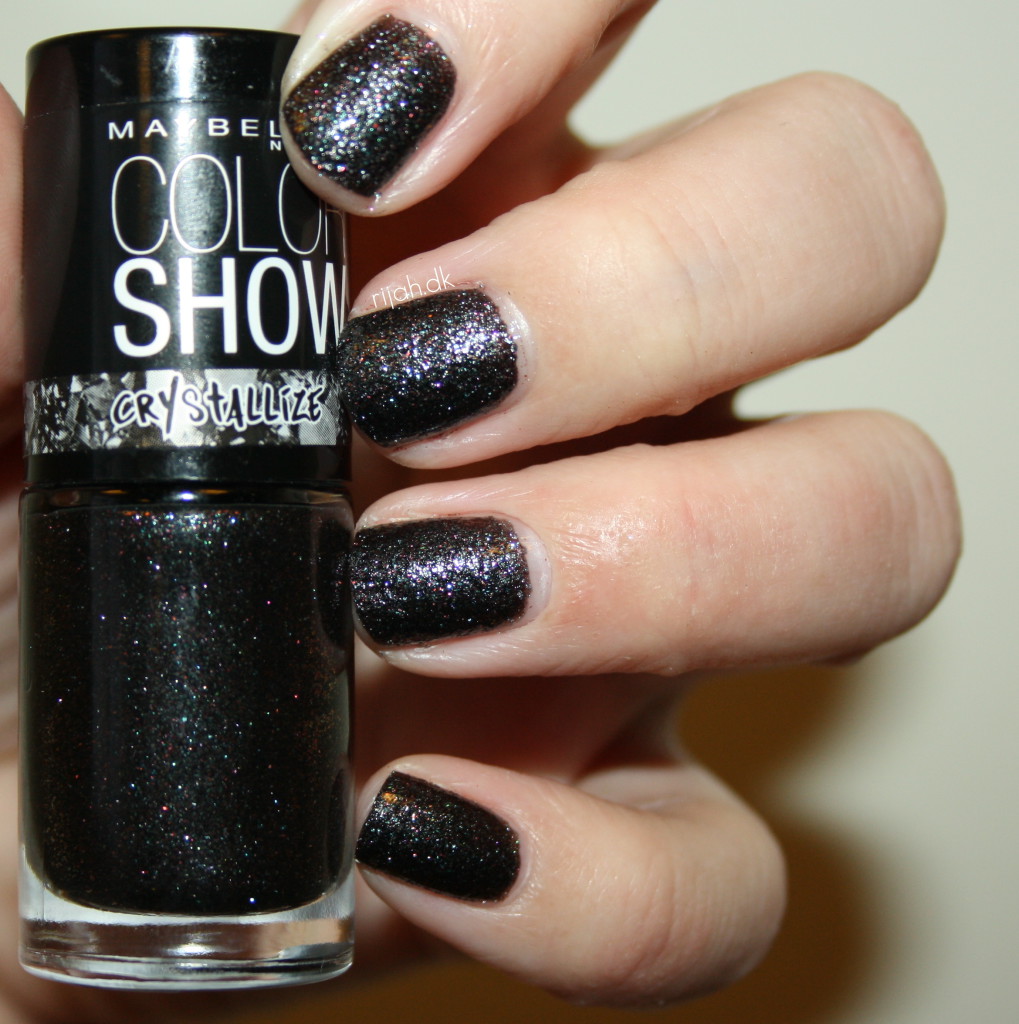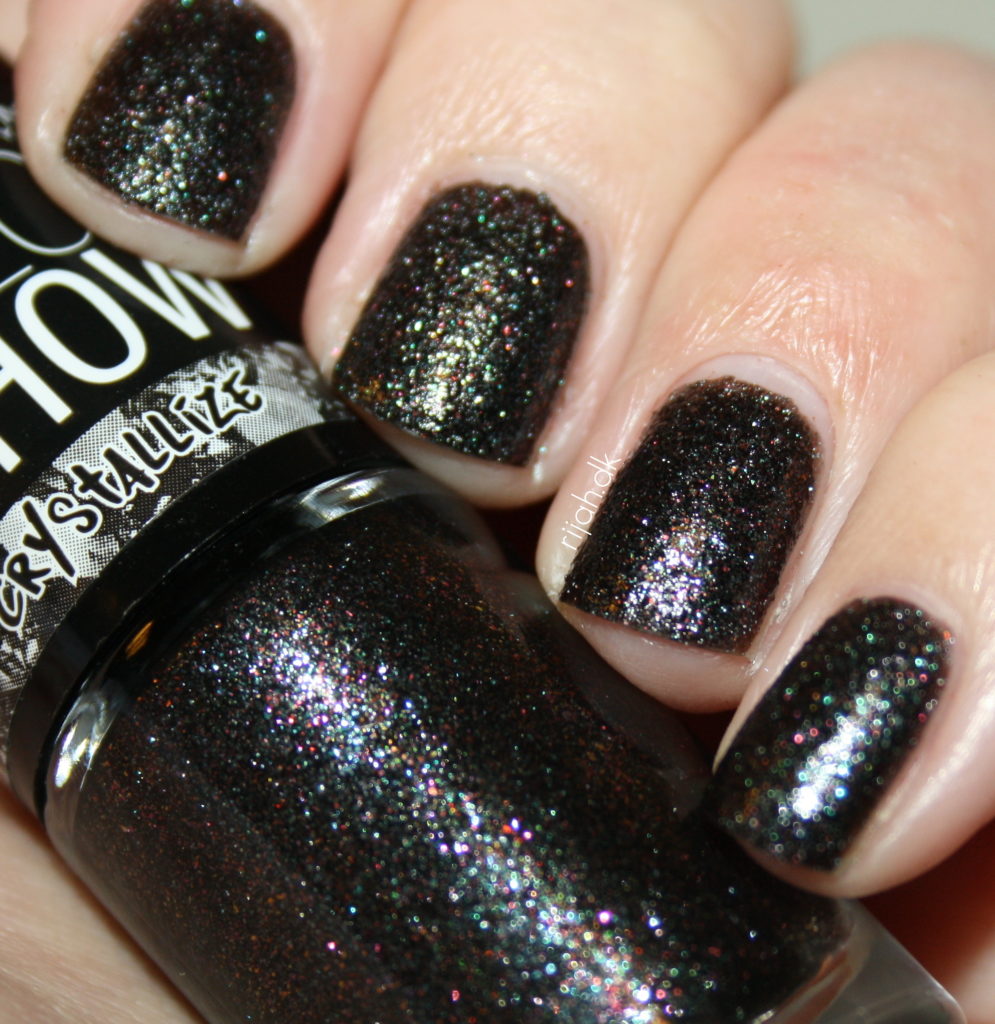 Håber i har haft en dejlig påske :) Min har i hvert fald været rigtig god, har holdt fødselsdag/housewarming og hygget med familien og vennerne <3

  Maybelline Color Show Crystallize