De fleste af jer kender helt sikkert mærket La Roche-Posay, der er giganter indenfor hudpleje. De laver også makeup, bla. neglelakker og dem har jeg fået et lille udvalg af, til at vise jer :) Beklager meget at jeg ikke viser lakkerne som jeg plejer, men mine hænder er slået totalt ud af et minimum af solskin i sidste uge, blandet med kulden i den her uge… Grrrr!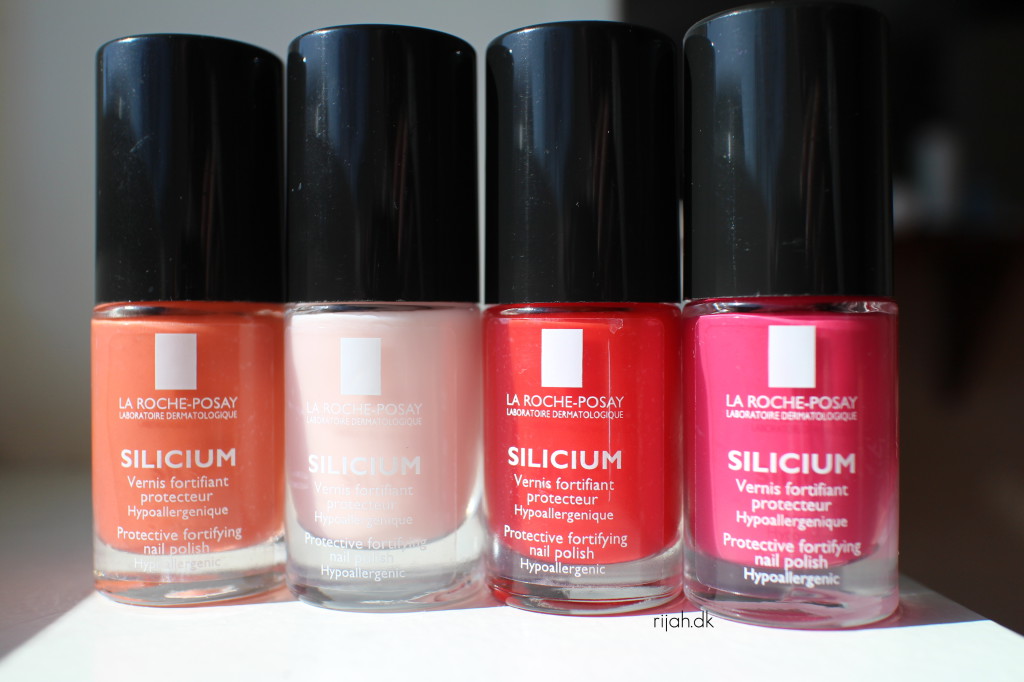 Serien af lakker som La Roche-Posay har udviklet hedder Silicium og er specielt beregnet til skrøbelige negle og hvis man evt. har allergi overfor neglelak, så kan disse altså bruges. Hvilket jo er vildt fedt for de stakler som evt. render rundt med det.. Neglelak allergi.. Bare ordet får mig jo til at skælve. UF det håber jeg aldrig jeg får! Nå men udover det så er de også uden formaldehyd, uden toluen, uden kolofonium altså harpiks(det anede jeg ik der var i lak?) og uden parabener. Desuden er de små kugler nede i lakken endda nikkelfri, så der må man altså sig der er virkelig tænkt over det hele :)
Corail er som navnet nok hentyder til en koral lak. Her er to lag på alle neglene. Den var fin og arbejde med og lagde sig pænt og tørrede rimelig hurtigt.

Rose er en nude lak. Der er to lag på her og den kan godt være lidt tricky at komme på, men det har nude lakker det for det meste med at være ;)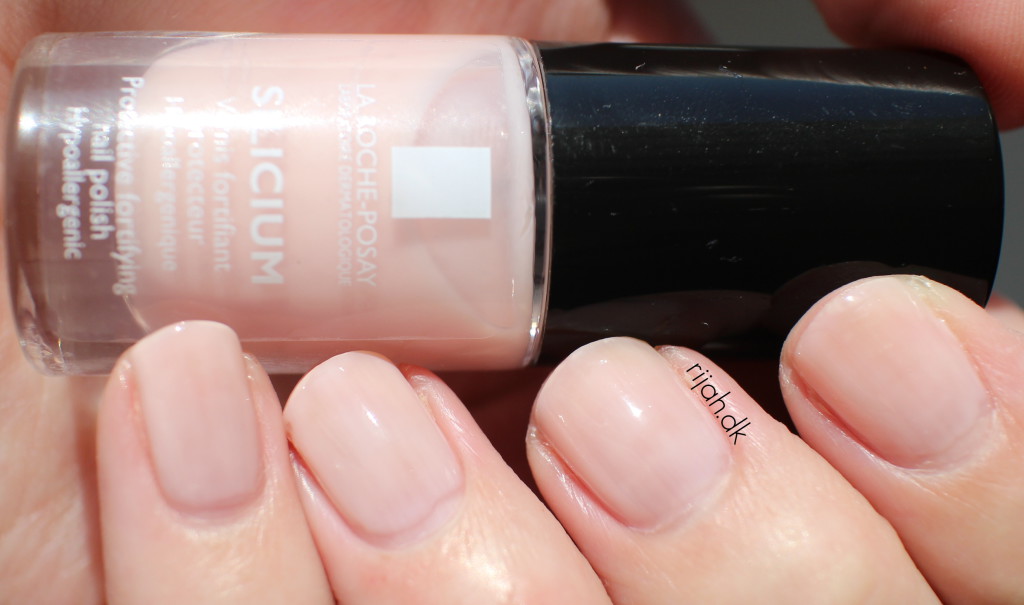 Rose Vif er en kanon flot pink, den minder mig en del om Chanel's Splendeur og den dækker rigtig godt ved et enkelt lag. For sjov skyld har jeg taget to på ringfingeren, men synes slet ikke det kan ses der er nogen forskel :)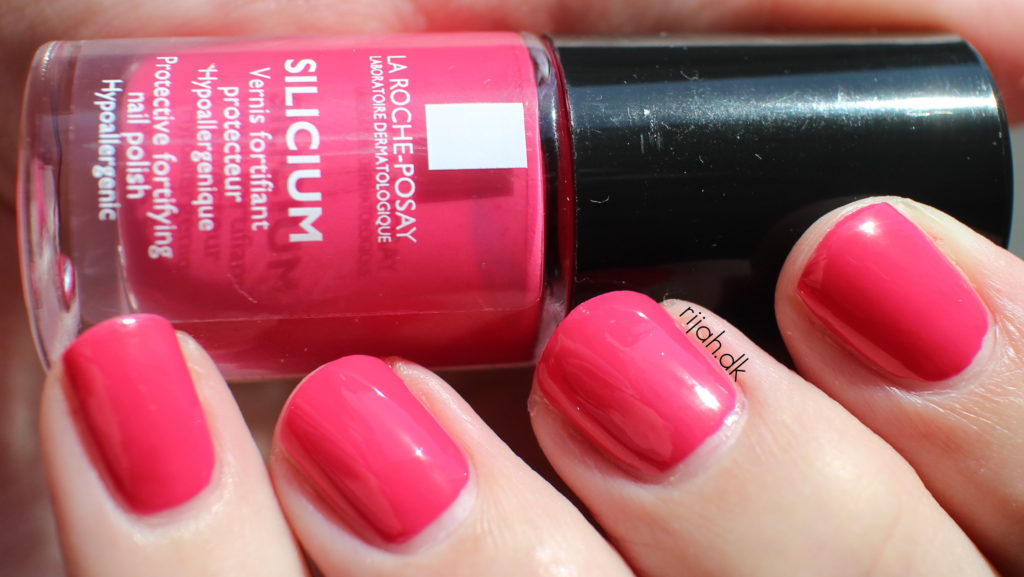 Rouge Coquelicot, GODT det her er et indlæg og ikke en video, fordi så havde min tunge stadig haft en knude på ;) Men det er jo stadig en rigtig flot rød lak, let jelly agtig og dækker bedst ved to lag.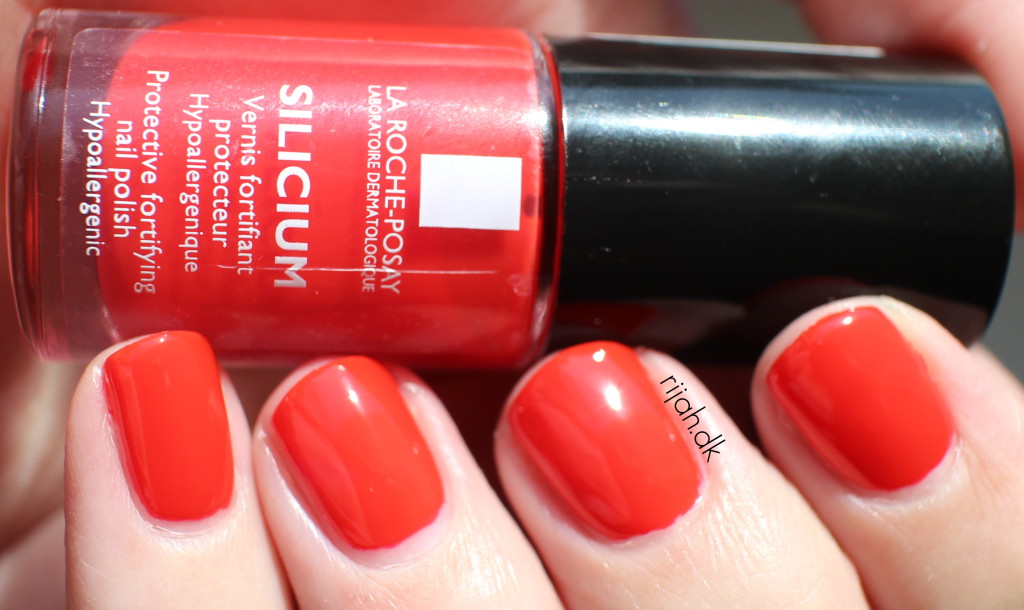 Glemte helt at tilføje prisen. Hvilket ligger på 99 kr. på f.eks webapoteket.dk og ellers kan de købes på de fleste apoteker landet over. Nærmeste forhandler kan evt. findes på laroche-posay.dk
La Roche-Posay Silicium